Injector Rx offers a reliable and cost effective fuel injector cleaning and flow testing service with guaranteed results. At a fraction of the cost of new or even refurbished fuel injectors, our fuel injector cleaning service is available to the automotive, motorcycle, marine and other related industries.
For as little as $18.00 per manifold injector or $25.00 per direct injector we can clean and restore your gummed up, clogged, dirty or leaking injectors to operate like new. Why pay 4 – 16 times or even more for a new injector or, at minimum, three times the amount for re manufactured fuel injectors? We will save you money with our OEM approved ultrasonic fuel injector cleaning and flow testing process. We guarantee our work and if we cannot restore your fuel injectors to function like new, you will not be charged for the time spent on those injectors we were unable to clean !
Call 1 800-381-2065
(Monday – Friday: 8:00 AM – 6:00 PM, Saturdays: 8:00 AM – 4:00PM (Central Standard Time)
(Your fuel injectors will be returned to you via USPS Priority Mail or any other shipping method you might choose within 24 – 48 hours after we have received them.)
Electronic fuel injection systems:
The electronic fuel injection systems used in conjunction with today's engines are sophisticated yet very reliable. It must and can adapt to a wide range of conditions. Their real-world performance often comes down to the accuracy and consistency of the injectors being used. Each injector has to deliver exactly the right amount of fuel when required to do so and has only milliseconds to do so. Not only must it deliver the exact amount of fuel but it must do so without changing the spray pattern. Regardless of condition it must be able to repeat this process thousands of times year in and year out. Sometimes in the most adverse conditions known to man. If it cannot do so engine performance will suffer.
To maintain this kind of performance it is of the utmost importance that fuel systems are kept as clean as possible. On newer engines this can be achieved by using quality gas and the occasional use of a good fuel injection system cleaner. Once injector problems start to appear the only reliable and guaranteed way to deal with the problem is ultrasonic cleaning and flow testing.
Cleaning fuel injectors outside the engine with the proper cleaning equipment is the only cleaning method that guarantees your injectors will operate like they should. No other injector cleaning method can and will give you such guarantee.
We don't just do a fuel injector cleaning and flow testing service, we understand fuel injection systems and the way they function. Give us a call and let us help you with your fuel injector problems. We like helping and talking too our customers.
Quick overview of the fuel injector cleaning and flow testing service process.
Fuel Injector Diagnostic and Flow Testing Equipment:
With our manufacturer approved fuel injector cleaning and flow testing service, and specialized computer controlled testing equipment, we can restore most dirty, clogged, gummed up or leaking fuel injectors to operate at the same level and standard as that of a new one.
If we cannot restore your fuel injectors to operate at the same level as a new injector we will not charge you for those injectors we were unable to restore.
Please note: Reconditioned or re-manufactured fuel injectors is a used, injector that has been ultrasonically cleaned, flow tested and fitted with new O-rings, filter baskets and pintle caps.
Ohm Testing Fuel Injectors: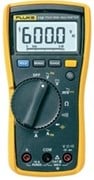 Upon arrival for our fuel injector cleaning and flow testing service the fuel injectors are Ohm tested for resistance. Those failing the resistance test are set aside and will not be cleaned because they are deemed to be irreparable.
The injectors are externally cleaned and then inspected for external damage. Injectors with visual cracks and exposed coil winding are rejected and will not be serviced. Rejected or bad fuel injectors cannot be reused because they could pose a fire hazard. The injectors are now numbered and they are ready for the next step.
Note: We do not charge for any of the diagnostics we performed on injectors that are not serviceable.
Fuel Injector Reluctance and Initial Flow Testing: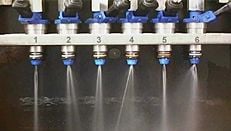 The injectors are now installed in our computer controlled testing machine where they are tested for reluctance. If they fail the reluctance test they are deemed irreparable.
The fuel injectors are pressurized to +/- 45 psi /3 bar and visually checked for pintle, ball or disc seat leaks. Spray patterns are checked for atomization and distribution and finally a flow test is done to determine the amount of fuel delivered.
GDI or direct injectors are tested at 73.5 PSI (5 bars). Our test procedures for direct injectors is factory approved.
Ultrasonic Fuel Injector Cleaning Process: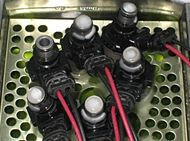 Where applicable, components such as O-rings, filter baskets and pintle caps are removed. The injectors are now ready for the ultrasonic injector cleaning process and placed in an ultrasonic bath containing a hot biodegradable environmentally friendly cleaning fluid.
The injectors are opened and closed at various speeds for approximately 25,000 – 30,000 times. Cleaning fluid enters the injector nozzle and in conjunction with the ultrasonic sound waves start to break loose the dirt inside of them. Once this process is completed the injectors are back flushed to remove all traces of dirt and contaminants.
Dynamic Fuel Injector Flow Testing:
The cleaned injectors are now re-installed in the injector flow bench where they are once again checked for leaks. After the leak test the injectors are tested for atomization and distribution. Then by means of dynamic flow testing volume is tested under a set fuel pressure and various rpm. Finally a static flow test is perform.
Once all the required tests are passed, new O-rings, filter baskets and pintle caps are installed. (If and when available). The cleaning process is now complete and the reconditioned fuel injectors are lubricated and placed in a plastic bag. A comprehensive report is prepared for the owner and included.
Note: We don't easily give up on leaking injectors or the ones that prove difficult to clean. In most instances we will keep on trying until the injectors work the way they should. We will not charge you for the extra time spent and if we are unsuccessful we will not charge you at all.

Faulty fuel injectors:
Faulty fuel injectors will cause check engine light to display. Faulty injectors may it be gummed up, clogged, leaking or dirty have the potential to cause expensive and catastrophic engine failure. Proper maintenance will help you avoid these costly repairs. Injector cleaning should always be considerate as part of you maintenance plan especially on older engines.

Clean fuel injectors:
Clean fuel injectors will:
Improve fuel economy.
Reduce exhaust pollution.
Increase engine performance.
Reduce service and repair costs.
Save you money!

Outboard Fuel Injectors:
Apart form cleaning almost all gasoline based inboard and outboard fuel injectors we also recondition Yamaha High Pressure Direct Injection pumps (
HPDI
). We clean and service E-Tec and
Optimax air injectors
too.
We also ultrasonically clean:
Fuel rails
Throttle bodies
We Do Not Service:
Common Rail Diesel Injectors
GM Vortec CPI injector "spider" assemblies
Ficht Injectors
BMW and or Mercedes Benz Piezo Injectors
Click here for Shipping Instructions or Call 1.800.381.2065
Cost of Injector Cleaning service:
$18.00 each per MPI injector. $25.00 each per Direct Injector
For our walk in customers we offer while you wait fuel injector cleaning service at $25.00 per injector and $35.00 per Direct Injector (GDI).
Note: For same day or while you wait fuel injector cleaning and flow testing service we do have have a minimum charge of $60.00. Thank you for the opportunity to earn your business. We have been cleaning fuel injectors for customers nation wide.
Click here for Shipping Instructions or Call 1.800.381.2065
Fisher House Foundation, Paralyzed Veterans of America  and Wounded Warrior Project